Manchester United goalkeeper Andre Onana says he has "let the team down" and that they failed to get a result at Bayern Munich "because of me".
In an eventful game in Germany, Onana's error gifted Bayern a crucial lead that they quickly doubled after United had started in disciplined fashion.
A flurry of goals followed but United were always chasing and ultimately fell short, suffering a 4-3 loss.
"This is the life of a goalkeeper," Onana told TNT Sports.
"It's difficult. We started very good. After my mistake we lost control of the game. It's a difficult situation for us, for me especially because I'm the one who let the team down.
"We were very good on the ball, they didn't create any chances, their first shot on target I made a mistake. It was the key point and the team went down because of that mistake.
"If we didn't win today it was because of me.
"I have to learn from it and be strong. I have a lot to prove. My start in Manchester hasn't been so good, not how I want. This was one of my worst games."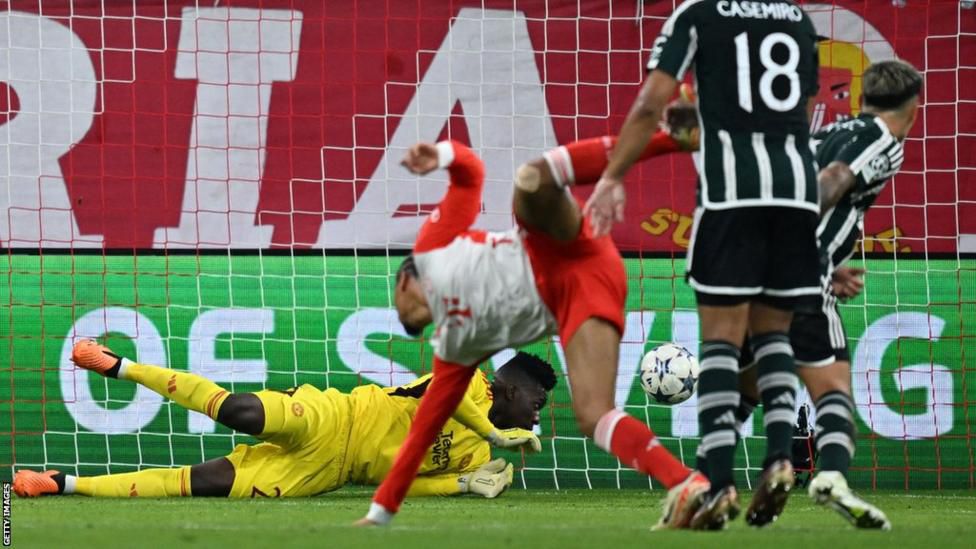 test
It epitomises Manchester United this season'
Speaking in his role as a pundit on TNT, former United defender Rio Ferdinand agreed with Onana's assessment that the mistake was crucial to the game.
"All the blame [for that goal] lays at his door," he said. "It was a straightforward save. It's not a hard shot to deal with. He'd expect to make that save.
"It epitomises Manchester United this season. Most of the goals they've conceded this season, they could have made tougher for the opposition. He hasn't dealt with a big moment there."
Onana joined United in the summer for £47.2m after helping Inter Milan reach the final of last season's Champions League.
However, the Cameroon international has struggled at times behind a shaky defence, conceding 14 goals in six games in all competitions.
They have now lost four of those six games this season and each of the past three.