Newcastle United and the Toon Army had waited two decades for a Champions League night like this and when it came it was worth every day and all the disappointments in between after an electrifying night on Tyneside.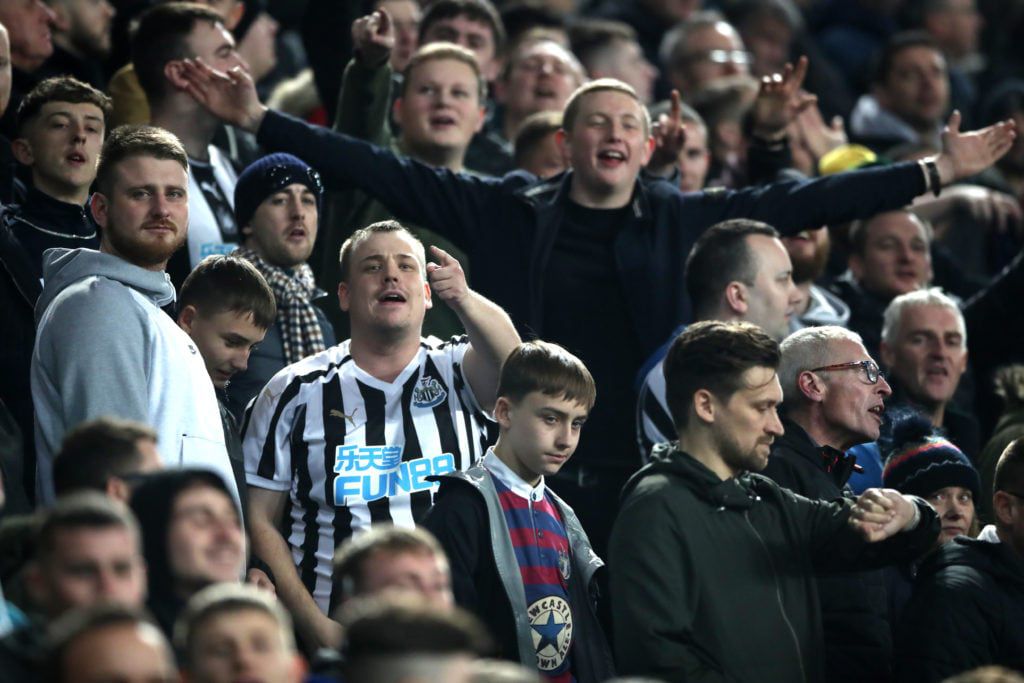 testing image description on blocky
As the Geordie hordes filed down the hill past statues of Sir Bobby Robson and Alan Shearer – manager and player when Barcelona won 2-0 in the last Champions League game at St James' Park in March 2003 – it almost looked like they were walking on air.
When Eddie Howe arrived at Newcastle almost two years ago, the first major appointment of the club's controversial Saudi Arabian owners, they were 19th in the Premier League and five points from safety.
It is the result of Howe's shrewd management and high finance that has led to a return to the Champions League and a night that saw Paris St-Germain thrashed 4-1 in another statement about the transformation this club had undergone.
PSG and their superstar Kylian Mbappe were touted as the true test of Newcastle's Champions League credentials. It was an examination Howe and his players passed with distinction.
Yes, PSG were poor but to simply put Newcastle's comprehensive triumph down to their deficiencies is to do the Magpies the greatest disservice as this was their night, their control, almost from start to finish.
This game provided a storyline and scoreline that Newcastle fans will talk about for years, a night to treasure for supporters who have to cast minds back to 1969 and the long-gone Inter-Cities Fairs Cup for their last major trophy.
Just driving into Newcastle hours before kick-off was to see a fanbase almost in a frenzy of anticipation, thousands gathered in the roads and around the stadium barely able to wait for the game to start.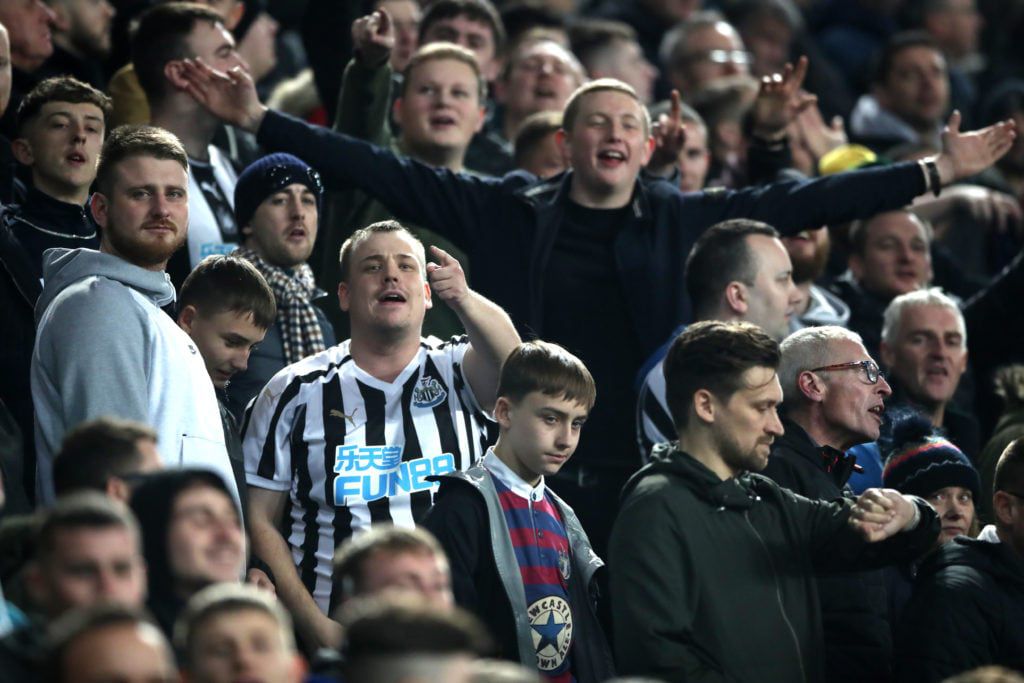 testing image description on blocky
As Howe walked along the perimeter of the pitch towards the tunnel before kick-off, one elderly fan festooned in club colors from head to foot leaned out towards the pensive-looking manager and shouted: "You've got this Eddie."
It transpired that he had.
St James' Park was a cauldron as PSG were greeted by four thick black and white walls of flags in each stand and banners, including a mosaic behind one goal that read: "Hello Hello."
It was not meant as a warm welcome off the pitch and PSG did not get one on it either. Newcastle made a fast start and barely let up.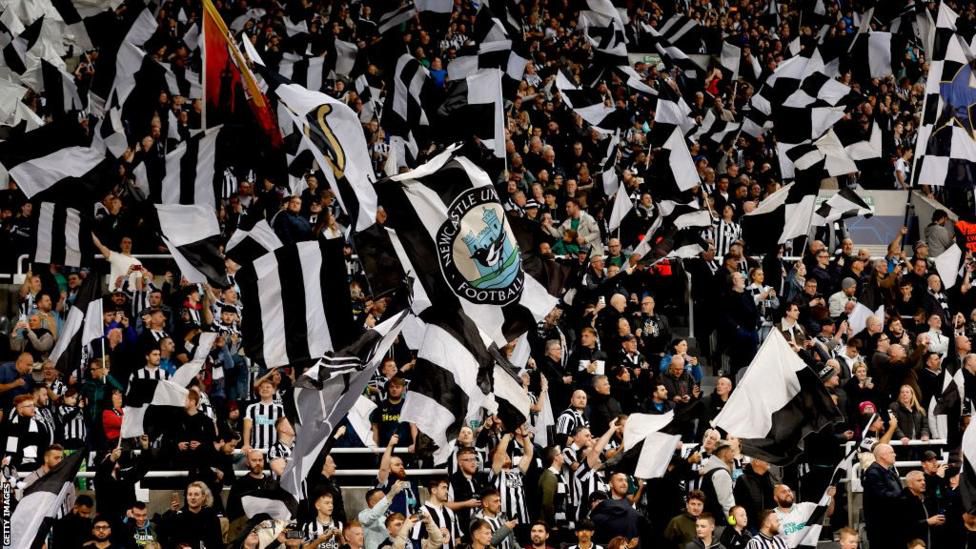 Newcastle fans enjoyed a special night at St James' Park
Anthony Gordon whirled his arms in a demand for greater noise – not that it was needed – in the opening seconds while Bruno Guimaraes and Dan Burn reacted to winning relatively routine challenges by turning to the crowd with fists clenched and roars. And how this packed house lapped it all up.
Mbappe offered an early threat when he set up a chance for Ousmane Dembele but that was about it. Outnumbered, marginalized, and shut down, Mbappe was the picture of frustration long before the final whistle.
The opening phases almost felt like an emotional release for Newcastle and their followers after two decades with their noses pressed up against the Champions League window. Newcastle simply overran PSG from the moment Miguel Almiron fired them in front after only 17 minutes.
And how sweet it was that two Geordie boys, the towering Burn and Sean Longstaff, provided the next two goals that put Newcastle out of sight and into the healthy position of four points from their first two Champions League group games after the draw against AC Milan in the San Siro.
The potential battle between Burn and Mbappe had been flagged up before kick-off, with the suggested sub-plot that this was where PSG would probe a Newcastle weakness.
In the end their paths never crossed as Mbappe patrolled the left flank, occasionally wandering in lacklustre fashion, while Burn covered himself in glory. Only one will remember this night with fondness and it will not be Mbappe.
Even Lucas Hernandez's header did nothing to disturb Newcastle's momentum and this perfect night was given the perfect finish when central defender Fabian Schar drilled a 20-yard finish high past PSG keeper Gianluigi Donnarumma in stoppage time. A stunning long-range piledriver from a pillar of Newcastle's rearguard? It just about summed up the whole occasion.
The final whistle was greeted by a noise that could have been heard across the Tyne Bridge.
Newcastle are only at the start of this Champions League campaign but after faltering footsteps in the San Siro, even though they earned a goalless draw, this was a performance and atmosphere that Borussia Dortmund may approach with trepidation as the next visitors to St James Park.
The traditional old Newcastle watering holes on the doorstep of the stadium such as The Strawberry were in the process of being drunk dry after the game and the Toon Army will hope they have more opportunities to do the same in future Champions League games.
Newcastle still have much to do in this group and their fans will know it – or at least they will once they come down from the highs and likely hangovers after this night of pure elation.